Call 813-855-0111 to schedule your consultation at our Tampa office.
MICRONEEDLING
Stimulates circulation and collagen production
Improves skin texture and reduces the appearance of wrinkles
Stimulates tissue regeneration
Improves scars, especially acne scars
Reduces pore size
Improves the appearance of stretch marks
Microneedling can be performed on all skin types, including ethnic skin. It can be used on all areas of the scalp, face, body including fragile skin like around eyes, mouth and neck.
An electric skin needling device with 12 very fine needles is used to break down old scar tissue and to stimulate skin cells to proliferate. This results in the formation of new tissue layers of elastin and collagen fibers and new capillaries for improved blood supply.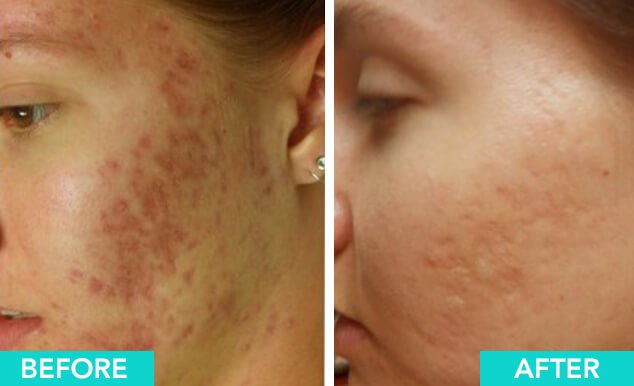 Most people will experience redness and mild swelling in a similar way as mild sunburn for 24-48 hours and there may be minimal pin-point bleeding and/or bruising. You will quickly notice that your skin is smoother and more radiant looking, and the full effects will be seen a few months later.
Microneedling can be safely repeated every 2-4 weeks until you achieve the desired results. For collagen induction, we recommend to start with 3 treatments, but with a minimum separation time of 4 to 6 weeks between treatments. For scar reduction an average of 3 to 6 treatments are recommended.
The number of treatments required will depend on how each individual responds to the treatments.
Most people will begin to see results after the very first appointment.
MICRONEEDLING INSTRUCTIONS
Before treatment, you should not:
Have a used Accutane (isotretinoin) within the last three months
Have open wounds, cuts or abrasions on the skin
Have had radiation treatment to the skin within the last year
Have any kind of current skin infection, condition, herpes simplex in the area to be treated
Are pregnant or breastfeeding
Have any history of keloid or hypertrophic scars or poor wound healing
To ensure the right healing environment, for 2-3 days do not use AHA's (glycolic Acid), retinol, acidic or "active" ingredients. Exposure to sun should also be avoided or zinc based sunblock should be used.
PLATELET RICH PLASMA (PRP)
The healing properties of the blood components in PRP can be used as a cosmetic treatment for the following:
Reducing fine lines and wrinkles
Tightening and toning skin
Mild collagen and volume loss
Crow's feet and dark under eye circles
Acne scarring
Rosacea
Platelet-rich plasma (PRP) is an extract of your own blood that contains three to five times more platelets, growth factors, and active proteins for tissue and injury healing. It has been used medically for years to accelerate wound healing; repair tendon, ligament and joint damage; heal diabetic ulcers; help regrow muscle and bone. When PRP is placed back into the skin by injection or micro-needling, it initiates a localized stem cell response. Over the weeks and months following treatment, this stem cell response recruits collagen-producing cells called fibroblasts. The fibroblasts replace tissue that has been damaged or lost through the aging process with healthy skin that looks refreshed and rejuvenated.
What is Platelet Rich Plasma?
PRP is natural. It is taken from the patients own blood to regenerate skin, nerves, blood vessels, and accelerate tissue repair. The treatment begins, by drawing blood from the patient which is then spun in a specialized centrifuge. This process separates the blood from the plasma and platelets. The Plasma that is concentrated with platelets is injected back into the tissues.
Once injected the platelets release growth factors which stimulate stems cells in the tissue to create new tissue which is more youthful. All the old and damaged tissue is renewed again. There is not much downtime with the procedure, and typically not much discomfort with the use of anesthesia. There is no risk for reaction or rejection since the procedure utilizes your own blood.
PRP has many uses and may be combined with other treatments to maximize efficacy and results.
We offer the following procedures using Platelet Rich Plasma
All PRP procedures are done with anesthesia.
Vampire facial ® – is microneedling with Hyaluronic acid, peptides, and platelet rich plasma- topical only
Vampire facial ® with injections – micorneedling with HA, peptides, PRP topical as well PRP injections to target problem areas.
Vampire facelift ® – PRP injections to face to improve skin and problem areas, up to 50 units of botox, and 2 syringes of fillers.
Breast lift – combination of micro needling and PRP injections to rejuvenate the decollate or breast area and nipple sensitivity.
Scalp PRP– Increase hear growth. Includes – 30 minutes Infrared therapy, PRP injections to scalp with additional Acell growth factors
O shot ® – Injections into the G-spots, and clitorus to rejuvenate nerves, blood vessels and sensitivity to climax also improves urinary leakage. We may recommend to purchase Apex M- for $299 for best results. The Apex M does your kegel exercises for you. It strengthens the muscles in the vaginal walls to improve laxity, sensitivity, and urinary incontinence.
P shot ® – 4 injections into the penis to improve sensitivity, firmness of erection, appearance, blood flow. We may recommend to purchase a VED which is a vacuum device that you use at home helps increase blood flow, erection and size.
OUR PRICES
MICRONEEDLING
$250 FULL FACE
$350 FACE & NECK
$500 FACE NECK & CHEST
PLATELET RICH PLASMA (PRP)
VAMPIRE FACIAL ® – $600
VAMPIRE FACIAL ® with injections – $1200
Injections only – $950
VAMPIRE FACELIFT ® – $2500
VAMPIRE BREAST LIFT ® – $1800
P SHOT ® (PRIAPUS SHOT) – $1200
O SHOT ® – $1200
SCALP PRP – $1800 FULL/$1200 PARTIAL
TRIFECTA FEMALE – O shot ®, Vampire facelift ® and Breast lift – $4200
TRIFECTA MALE – P shot ®, Vampire facial ®, Scalp PRP – $4200
Includes Acell growth factor matrix and infrared therapy
Any package of 3 will be 10% off.