Introducing PRX Derm Perfexion: Unveiling Radiant Skin Without the Peel
In the ever-evolving world of cosmetic dermatology, the pursuit of flawless, youthful skin has led to innovative breakthroughs that redefine the way we approach skin revitalization. Among these advancements stands PRX Derm Perfexion, a game-changing treatment that harmonizes cutting-edge science with your desire for glowing, rejuvenated skin. Say goodbye to the discomfort of traditional chemical peels and welcome a new era of skincare transformation.
The allure of skin peels is undeniable, promising remarkable improvements in skin health and appearance. Yet, the aftermath of dry, peeling skin often poses a deterrent to experiencing the full benefits. Enter PRX Derm Perfexion, a revolutionary solution that marries the results of chemical peels with unparalleled comfort. Formerly known as WiQO PRX-T33 or CALM Glow, this treatment unveils radiant skin without the typical peeling process.
What Is PRX Derm Perfexion?
What sets PRX Derm Perfexion apart is its unique approach to skin revitalization. Developed initially to treat scarring in children, its safety profile extends to adults, even on the most sensitive areas. By bypassing the surface epidermis that flakes away during traditional peels, PRX Derm Perfexion penetrates deeper into the dermis and basal layers, activating the skin's innate regenerative processes.
Imagine achieving tighter, smoother, and healthier-looking skin without the irritation or inflammation associated with traditional peels. PRX Derm Perfexion achieves precisely that. This "no-peel" or reverse peel treatment boasts a spectrum of benefits, leaving skin brighter, firmer, and more hydrated.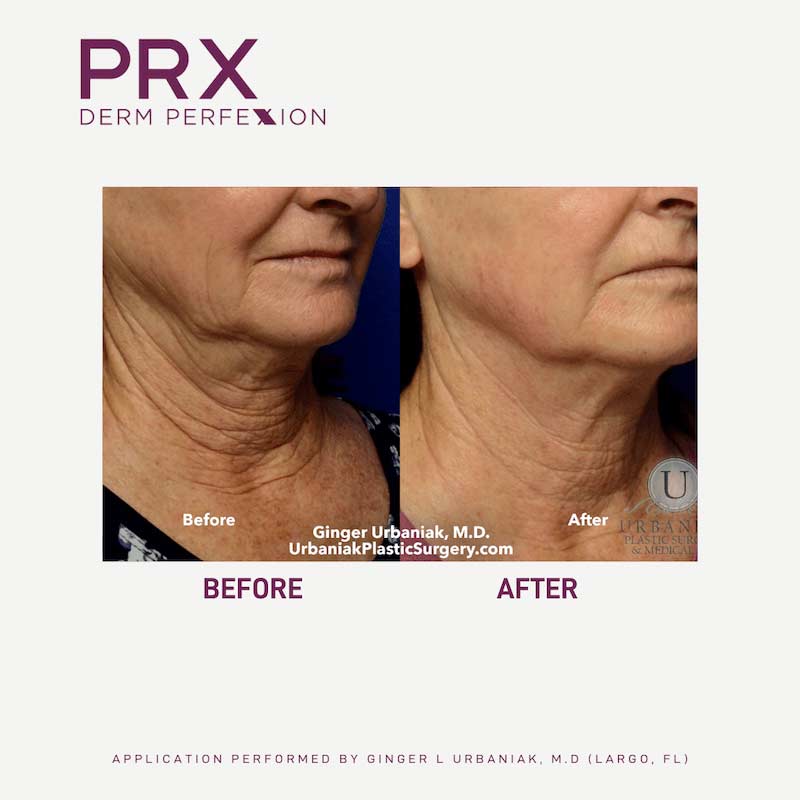 The secret behind PRX Derm Perfexion lies in its meticulous formulation. A potent blend of trichloroacetic acid (TCA), kojic acid, and hydrogen peroxide collaborates to achieve maximal impact with minimal discomfort. This trifecta not only revitalizes the skin's appearance but also stimulates fibroblast growth, suppresses melanin production, and deeply cleanses, enhancing overall skin health.
This treatment is a true testament to inclusivity, catering to all skin tones, types, and textures. It adroitly targets a plethora of skin concerns, from laxity, scars, and wrinkles to uneven tone and texture. PRX Derm Perfexion's versatility extends to its application areas, with the face and body both benefiting. Importantly, it sidesteps photosensitivity concerns, making year-round administration viable while mitigating the risk of adverse reactions.
The beauty of PRX Derm Perfexion is not solely skin deep. Beyond its immediate impact, this treatment stimulates the skin's natural healing mechanisms, ushering in long-term regenerative results. Regardless of age or gender, PRX Derm Perfexion welcomes all seeking a transformative skincare experience.
Learn More About Miami PRX Derm Perfexion
Are You a Candidate for PRX Derm Perfexion?
In most cases, the answer is a resounding yes. Designed for all ages and skin types, its versatility ensures remarkable outcomes for various cosmetic flaws and skin health concerns. However, it's contraindicated for pregnant or breastfeeding individuals, those allergic to its components, and those with specific skin conditions.
How Does PRX Derm Perfexion Work? 
The treatment's uniqueness stems from its deep penetration into the skin's layers, igniting rejuvenation and cell turnover. Trichloroacetic acid (TCA) spearheads exfoliation and fibroblast growth, while kojic acid brightens and hydrogen peroxide deep cleanses. Administered through a simple, painless process, multiple applications of the PRX Derm Perfexion solution yield profound results in a single session.
As the session concludes, expect a warm, slightly inflamed complexion that swiftly settles within hours. Unlike traditional peels, PRX Derm Perfexion minimizes peeling, though some thick-skinned areas might experience it. Sensitive regions could exhibit mild swelling, but these transient effects fade within days, unveiling your newfound radiance.
For enduring results, the treatment plan varies. From skin tightening to scar improvement, the frequency of sessions aligns with your desired outcome. Whether addressing hyperpigmentation, scars, stretch marks, or acne, PRX Derm Perfexion's efficacy persists. Maintenance courses ensure lasting benefits for some conditions, while regular sessions amplify the treatment's impact on skin health and aesthetics.
Get PRX Derm Perfexion in Miami, FL
In your quest for flawless skin, PRX Derm Perfexion stands as a beacon of innovation and transformation. Its promise lies not only in immediate results but in a journey toward enduring radiance. Consult with one of our skincare professionals in Miami to embark on this revitalizing path and unveil the radiant, revitalized you that PRX Derm Perfexion brings to life.
Prices are subject to change and personalized prices will be provided upon consultation.