Call our office today to schedule your consultation
813-855-0111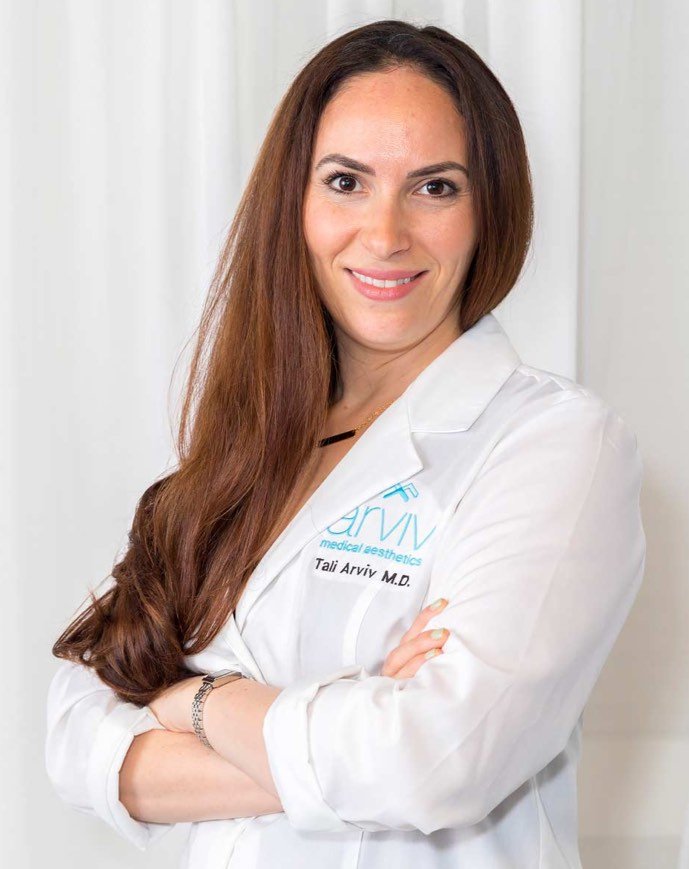 Meet Dr. Tali Arviv
Dr. Arviv is a caring, compassionate physician who takes the time necessary to educate and evaluate her patients. She discusses their concerns and provides each one of her patients with a customized and comprehensive treatment plan that suits their needs. What makes her unique is that she treats her patients as a whole person.
She is board-certified in internal medicine and specializes in aesthetic medicine. She graduated with honors from the University of South Florida with her Bachelor's in Biology and from Ross University with her Medical Degree. She completed her residency at Orlando Regional Medical Center.
Dr. Arviv attends the American Academy of Anti-Aging where she completed her training in advanced injectable techniques, allowing her to become an expert injector in neuromodulators, dermal fillers, Sculptra and Kybella. She has an artistic eye and uses her injectables to enhance your natural beauty. She has also trained many physicians and healthcare providers in the art of injectables. Dr. Arviv is the Medical Director of the Beauty and Health Institute and has over 10 years of experience in laser technology. She specialized in laser skin resurfacing, laser hair removal, IPL, tattoo removal, and vein treatment. She also received a certification in liposuction and fat grafting from the American Association of Aesthetics Medicine and Surgery.
She treats a variety of cosmetic skin conditions in her office and performs minor surgical procedures such as excision of keloids, skin tags, and moles using techniques that minimize scarring and improve existing scars.
Dr. Arviv has incorporated bio-identical hormone replacement into her practice, emphasizing to patients that hormone balance and optimal nutrition is a key component to overall well-being and quality of life. She encourages patients to look at themselves from the inside out and consider all of the factors that are important to their health. She established her practice in 2014 and strives to deliver the best care for her patients.
Whatever your medical or cosmetic need is, Dr. Arviv and her staff excel in helping you achieve the results you want by making you feel and look great.
"
I have been going here for various procedures and the staff is amazing. Product selection is also fantastic. Communication, advice, flexibility is all here! This place changed my life!
– Kelly Richards
Dr. Ahmed Abdullah
Dr. Ahmed Abdullah is a cosmetic and reconstructive surgeon, certified by the American Board of Surgery and the American Board of Plastic Surgery. He serves on the Ethics Committee of the North Dakota Medical Association and is a fellow of the International College of Surgeons, the American College of Surgeons, the American Academy of Cosmetic Surgery and the American Society of Laser Medicine and Surgery.
In 1977, Dr. Abdullah attended Haverford College in Philadelphia on full scholarship. After graduating with honors in 1981, he attended medical school at Northwestern University in Chicago and completed his residency at the University of Texas Medical Branch in Galveston, where he trained under Drs. Martin Robson and John Heggers, internationally renowned plastic surgeons and researchers, whose work showed aloe to be widely beneficial to the skin. From them, Dr. Abdullah learned the pioneering act of applying pharmaceutical-grade aloe to skin flaps during surgery to encourage expedited healing, a practice he continues today with much success.
Today, Dr. Abdullah is, himself, a recognized expert on the restorative and medicinal effects of aloe vera. In fact, his understanding of aloe's ability to benefit the skin led him to develop Lexli®️️, the premier line of aloe-based skin care, available online and via salons, spas and physician offices.
Marla Schenck APRN
(Tampa Team)
Marla has 21 years of experience as a nurse practitioner specializing in dermatology, aesthetics, plastic surgery, hormone replacement and peptide therapy.
She obtained her undergraduate nursing degree from Lenoir-Rhyne College in North Carolina and her Master's of Science in Nursing from the University of Florida.
"

My favorite thing about my profession is helping patients feel and look their best utilizing wellness, optimization of hormones and aesthetic procedures. I live the lifestyle that I preach by daily weight training, cardio and clean eating. Love my CrossFit as it allows me to exercise my competitive spirit and challenges me to keep striving to be the best version of me every day."
– Marla Schenck
Ashton Fink, APRN
(Tampa Team)
Ashton has 6 years experience as a Nurse Practitioner specializing in the art and science of aesthetic medicine.
She earned her Bachelor's Degree in Nursing from the University of Tampa and her Master's of Science in Nursing degree from the University of South Florida.
"

My favorite part is providing my patients beautiful and natural results. I enjoy spending time with my husband who works for the local fire department and my two young daughters. I look forward to continuing to help our patients feel their best, inside and out!"
– Ashton Fink, APRN
Nadina Fiveland, Medical Aesthetician, Laser Practitioner
(Tampa Team)
Nadina has 28 years of experience as a Medical Aesthetician and laser practitioner. She specializes in lasers, clinical skin care and advanced clinical treatments (chemical peels, PRP, fibroblast, plasma, Ultherapy, Trusculpt, RF devices etc) and CoolSculpting.
She obtained her Master's Degree in BioChemistry from the University of Lomonosov, Ukraine. She also attended Accredited Laser & Aesthetic School, Professional Health at Ashworth University, USA.
"

My favorite thing about my profession is making people feel good about themselves and create a positive impact. In my free time I enjoy playing tennis, cross fit, and yoga."
– Nadina Fiveland
Oksana Shopsha Medical Licensed Esthetician / Certified Clinical Medical Assistant
(Miami Team)
Oksana has 19 years of experience as a Medical Aesthetician and Medical Assistant. She specializes in HydraFacials, microneedling, chemical peels, PRP, IPL, skin resurfacing, body contouring, Coolsculpting, Trusculpt flex, Ultherapy, clinical skin care and skincare products.
"

I love transforming the skin and making people feel positive in their own skin. Healthy skin is beautiful skin.️ I'm a mother of 4 beautiful children and have been together with my husband for 22 years."
– Oksana Shopsha
Sandra Rosado, Medical Aesthetician, Laser Practicioner
(Miami Team)
Sandra has 20 years of experience as a Medical Aesthetician specializing in clinical skin care and laser treatments including laser hair removal, Coolsculpting, facials, electrolysis, body contouring treatments, and chemical peels.
She attended Florida College of Natural Health, and obtained her Certification for Medical Electrolysis.
"

I love all aspects of my profession, I certainly enjoy bringing my patients/clients to their desired aesthetic goals and help them reach them accordingly, safely and carefully. My favorite part is seeing them happy! I enjoy exercising, eating well and learning new technology in the industry of skin."
– Sandra Rosado
Diana Mezquite, Medical Aesthetician, Laser Practicioner
(Tampa Team)
Diana Mezquite has a year of experience as a Medical Aesthetician specializing in laser treatments and skin care. She has been certified in microneedling, IPL, laser hair removal, dermaplaning, Hydrafacial, Cool Sculpting, body contouring, Trusculpt, RF microneedling and Ultherapy.
She obtained her training at The Beauty and Health Institute in Tampa, FL.
Nadia Zhylin, APRN
(Tampa Team)
Was born in Russia, married +1. Nadia has 12 experience in the medical field, she started her career in Oncology. After 3 years she transitioned to women's health and continued to Primary care. Working in the Aesthetics field since 2021, specializing in aesthetics injections, skin resurfacing procedures, and non-surgical rejuvenation treatments.
She obtained her associate degree from Hillsborough College and her master's from the University of South Florida
At Arviv Medical Aesthetics, we work hard to make your experience with us a pleasant one. We strive to give you the highest level of medical care in a luxury day spa atmosphere.  In addition to a beautiful and relaxing environment, all of our staff members were specifically selected for their caring nature and high level of professionalism and skill.Whether your goal is preventative health, a wellness plan, or you want to obtain a healthy, youthful look through our aesthetics procedures, you can be assured that Arviv Medical Aesthetics will provide you superior service in a safe, comforting and welcoming atmosphere.
THE ARVIV MEDICAL AESTHETICS ADVANTAGE
Although many spas claim to be the "best," at Arviv Medical Aesthetics we feel we have a few key advantages over other medical spas (and doctors' offices) — our Technology, Training, Experience and Customer Service.