Call our Tampa office at 813-855-0111 to schedule your consultation.
We offer the following treatments for keloids in Tampa:

1. Kenalog Injections
2. Surgical Excision
3. Superficial Radiation Therapy
4. Combination Therapy
There are 11 million people suffer from keloids. A keloids is a growth of extra scar tissue where the skin has healed after an injury. Keloids expand in claw-like growths over normal skin. They have the capability to hurt with a needle-like pain or to itch without warning, although the degree of sensation varies from person to person.
Keloids are difficult to treat and often we are able to do 2-6 sessions of kenalog injections, w steroid, that reduces inflammation and growth of the keloid and slowly shrinking it. However, if this method is not sufficient due to very enlarged keloids, the only method to "cure" your self and improve the appearance is to excise the keloid and then undergo superficial radiation therapy (SRT) which can achieve cure rates of up to 90%.
Sensus Healthcare's SRT-100 is a state-of-the-art and effective solution to treat keloids. Numerous clinical publications have demonstrated that combing SRT with surgery is the most effective and successful way to to treat and rid your keloids. Keloids don't have to be a chronic disease anymore.
90%+ cure rate
Virtually Painless
Enhance Quality of Life
Proven Treatment
Prevents Recurring Surgeries and Injections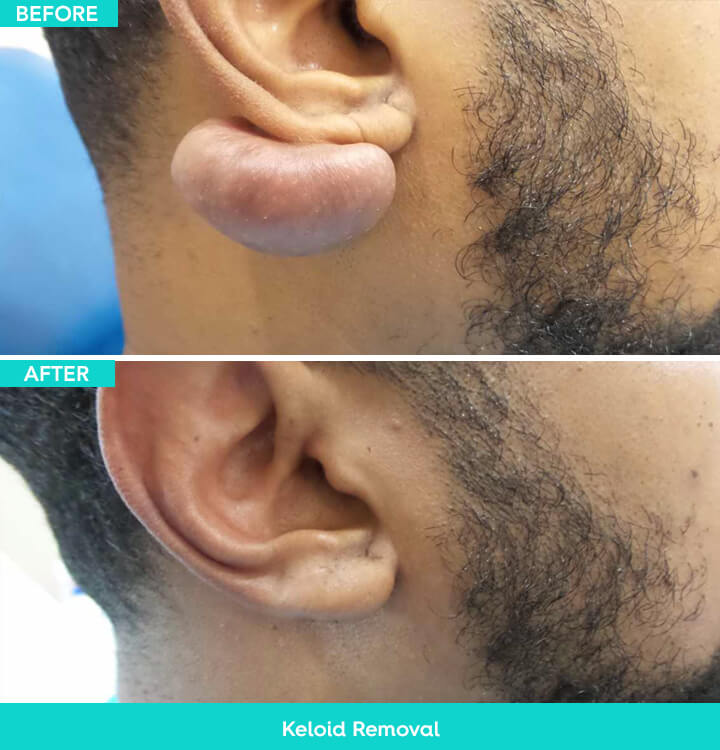 KENALOG INJECTION INSTRUCTIONS
Kenalog is injected into soft tissues of the body to treat certain skin disorders caused by autoimmune conditions such as lupus, psoriasis, lichen planus, and others. Kenalog is a steroid. Common side effects include nausea, bloating, appetite changes, stomach or side pain, headache, sleep problems (insomnia), acne or other skin changes, slow-healing wounds, thinning hair, bruising or swelling, sweating, or irregular menstrual periods.
Dosage for Kenalog is individualized based on the condition and patient response. Kenalog may interact with aminoglutethimide, birth control pills, hormone replacement therapy, blood thinners, cyclosporine, digoxin, insulin or diabetes medications you take by mouth, isoniazid, rifampin, seizure medication, antibiotics, aspirin, or other NSAIDs (non-steroidal anti-inflammatory drugs). Tell your doctor all medications you are taking. Kenalog should be used during pregnancy only if prescribed. This medication may be harmful to a fetus. Infants born to mothers who have received corticosteroids during pregnancy should be observed for signs of hypoadrenalism. This medication can pass into breast milk and may harm a nursing baby.
Consult your doctor before breast-feeding.
Get emergency medical help if you have any of these signs of an allergic reaction: hives; difficulty breathing; swelling of your face, lips, tongue, or throat.
Call your doctor at once if you have a serious side effect such as:
·         fast, slow, or uneven heart rate;
·         feeling short of breath, even with mild exertion;
·         swelling;
·         rapid weight gain;
·         dangerously high blood pressure (severe headache, buzzing in your ears, anxiety, confusion, chest pain);
·         problems with your vision;
·         redness, discomfort, or drainage (may be signs of infection);
·         severe depression, changes in mood or behavior;
·         seizure (convulsions);
·         sweating more than usual;
·         muscle pain, tenderness, or weakness;
·         redness/pain at the injection site.
Less serious side effects may include:
·         nausea, bloating, appetite changes;
·         stomach or side pain;
·         headache, sleep problems (insomnia);
·         acne, scaling, or other skin changes;
·         a wound that is slow to heal;
·         thinning hair;
·         bruising or swelling;
·         sweating more than usual;
·         irregular menstrual periods.
 OUR PRICES
KENALOG INJECTIONS -$150 PER AREA
EXCISION STARTING AT  $300
SUPERFICIAL RADIATION THERAPY STARTING AT $900