Get your free laser hair removal consultation today! 
Or call (813) 797-4776 to schedule your consultation with our Ocala office.
Shaving can be a time-consuming hassle, especially if it leaves behind red bumps or gets itchy. Before you know it, it's time to shave again and you have to start the process all over. Simplify your life and make itchiness and ingrown hairs a thing of the past with Ocala laser hair removal. At Arviv Medical Aesthetics, we can help you permanently rid yourself of unwanted hair in just a few sessions.
The Benefits of Laser Hair Removal
In addition to getting rid of unsightly hair, laser hair removal has several benefits over traditional waxing and shaving.
Opt for laser hair removal in Ocala for benefits such as:
Never get razor burns, or ingrown hairs again
Precise targeting: Our lasers have settings for different hair types and are also calibrated to only target certain areas that have hair, leaving the rest untouched.
Fast treatments: Our hair removal lasers have the largest spot size to enable the treatment of several hair follicles at once. This makes for an efficient, fast, treatment. You can get your upper lip done in under one minute.
Money Savings: Laser Hair removal has an upfront cost, but once you've has your hair removed, its permanent. That means you will save big in the long term since you'll no longer be paying for waxing, razors, or shaving gel.
Targets all locations: You can do laser hair removal on any region of the body. We've got you covered whether its armpits, bikini area or buttocks, you can count on us to make sure you get rid of any unwanted hair on any and all body areas.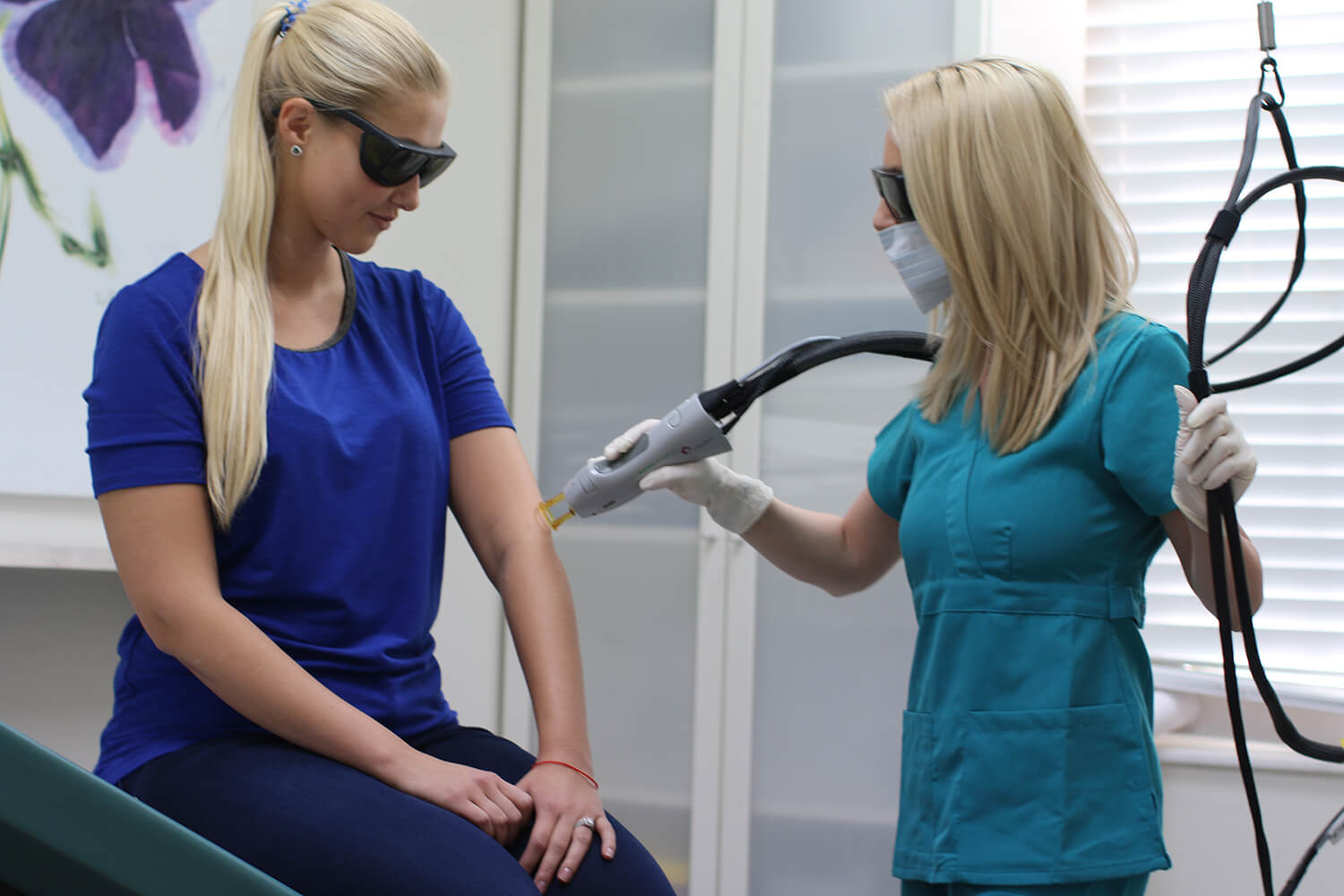 How We Get Rid of Unwanted Hair
Laser hair removal is a safe, FDA-approved treatment designed to permanently rid you of unwanted hair. We will take a laser to your desired region and calibrate it to the coarseness of your hair type and set it to only remove hair from that region.
Cutting-Edge Laser Technology
Our top-of-the-line laser uses light energy to destroy hair at its root without damaging any of the nearby skin. At Arviv Medical Aesthetics in Ocala, FL, we use lasers made by Syneron-Candela, a trusted name in quality and effectiveness in the industry.
The most common treated areas for women include legs, bikini, underarms, upper lip and stomach and the most common treated areas for men are facial hair, ears, shoulders, back and chest.
SMALL BODY AREAS
Abdominal line
Upper lip
Lower lip
Chin
Hands
Fingers
Ears
Feet
Toes
Nose
Glabella
Eyebrows
Perianal
Sideburns
Jawline (under chin)
Forehead
MEDIUM BODY AREAS
Knees
Underarms
Neck front
Neck back
Bikini 2″ out
LARGE BODY AREAS
Brazilian
Full Face
Abdomen
Chest/breast
Buttocks (no perianal)
Scalp (no neck)
Shoulders
Upper back
Lower back
Upper arms
Lower arms
Upper legs
Lower legs
Prices are subject to change and personalized prices will be provided upon consultation.
LASER HAIR REMOVAL TREATMENT INSTRUCTIONS
PRE-TREATMENT INSTRUCTIONS
Two weeks prior to treatment, discontinue using all alpha hydroxyl acid products (those containing glycolic or lactic acid), salicylic acid products, retinoids (Retin A, Renova, Differin, and Tazorac) and other topical acne medications such as benzoyl peroxide. If in doubt about using any product, please discontinue it and discuss with us at your appointment. No antibiotics and/or any photosensitive medications may be used during the time of treatment.
Shave the treatment area 1 or 2 days before laser hair removal.
Laser treatments are not recommended for tanned patients until the tan has faded. Sun exposure must be avoided between treatments for a minimum of three weeks before treatments. This includes sun exposure and tanning booths. Artificial tanning products must be discontinued two weeks prior to treatments. Always use a sunscreen of SPF 30 or higher throughout the course of your laser treatments.
Do not pluck, wax or tweeze hairs lasered throughout the course of your laser treatments.
Patients with a history of herpes should be take an oral antiviral medication (Zovirax or Famvir) the day before treatment. Laser heat can trigger and/or reactivate the virus in the same way as sun, stress, and fever. Consult with your physician if you need a prescription.
At the time of treatment, laser protective glasses MUST be worn.
If consuming any hormone stimulating or anti-depression medication, client MUST notify Technician prior to treatment.
POST-TREATMENT INSTRUCTIONS
No DIRECT Sun Exposure or Tanning three weeks after laser treatment. Always use a sunscreen of SPF 30 or higher with ZINC oxide.
Extra hygiene care at home is may be required.
DO NOT pluck, wax or tweeze hairs being treated with laser.
Redness and swelling of the follicles/tissue may appear and can remain for 15 minutes up to few hours.
To reduce swelling, application of Hydrocortisone 1% or an antibiotic cream.
If scabbing, pustules or follicle inflammation appear, apply Hydrocortisone 1% or an antibiotic cream such as Neosporin or Polypore for 2-3 days after the treatment and contact our office immediately.
DO NOT PICK SCABS for proper healing of the skin.
When treating facial area: Make up MUST be removed and can be used day after the treatment.
DO NOT TOUCH, RUB, and SCRATCH OR PICK the treated area.
Complete hair clearance can take 10-20 days after laser procedure.
Why Trust Arviv Medical Aesthetics
Dr. Tali Arviv is board-certified in internal medicine with her sub-specialty aesthetic medicine since 2014. She attended the Beauty and Health institute before going to medical school and practiced as a laser hair removal technician before becoming a physician and she herself understands the technology and has the clinical skills to deliver a safe and effective treatment. She is now the medical director of the school and supervises the laser classes in her clinic. She also provides protocols and guidelines to her current staff to ensure consistency in the efficacy and safety of laser treatments for all patients. She also prides herself in providing the best technology, gold standard and FDA approved lasers for treatments she offers in her clinic.
Dr. Arviv knows medical procedures can cause anxiety and ensures that all your questions are answered by spending as much time with you as needed. She'll also work with you to create a personalized treatment plan.
For more information about Ocala laser hair removal cost and pricing information, or if you have general questions, contact us today. Our caring and knowledgeable staff can walk you through the process, prepare you for your appointment with a medical provider and answer any questions you may have.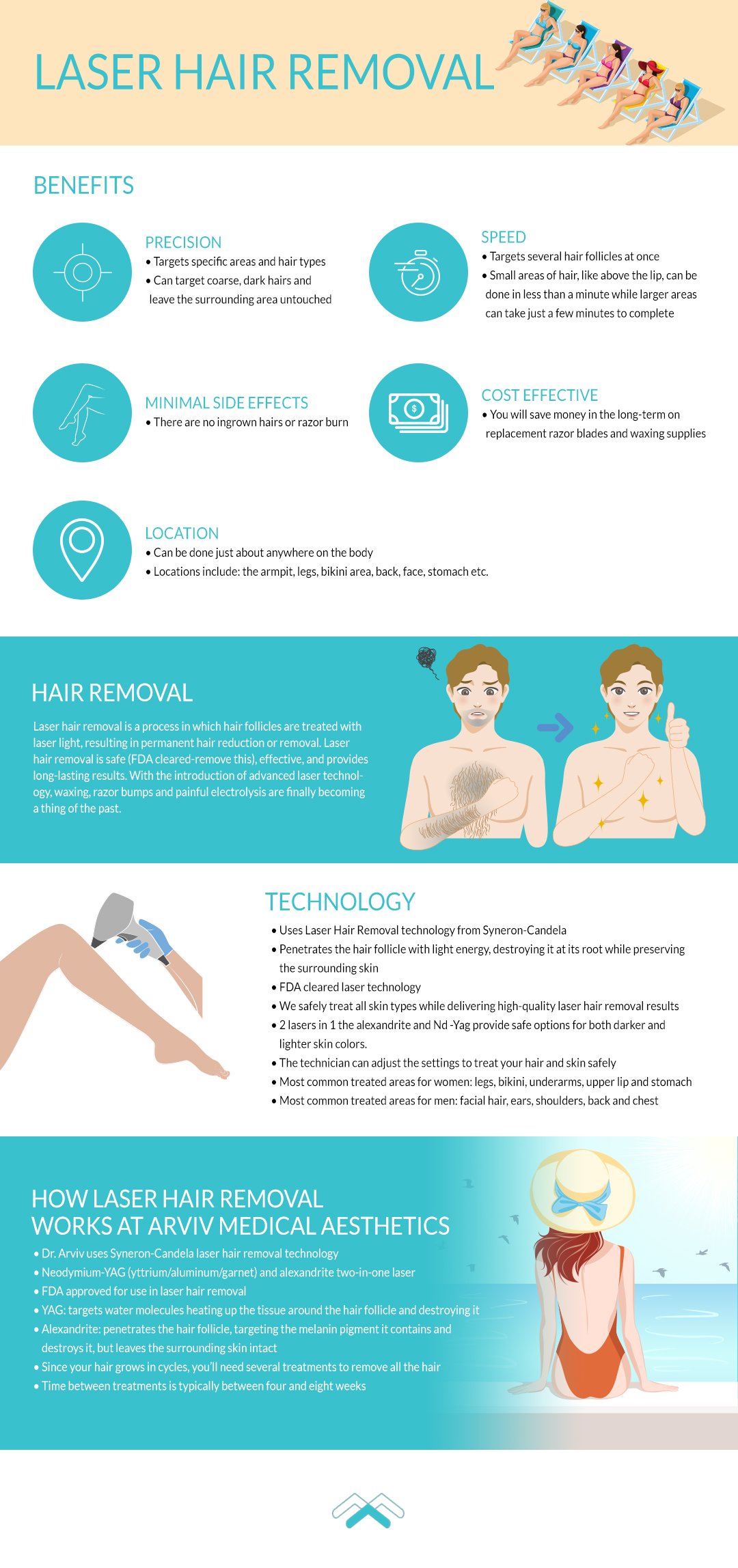 Your Hair Removal Session at Arviv Medical Aesthetics
Once you've had a consultation with OUR LASER TECHNICIAN and decided on your course of treatment, you'll be ready to start coming in for your hair removal sessions. Arviv Medical Aesthetics uses the Syneron-Candela laser which has modes for those with darker skin and those with lighter skin. This ensures that no matter your skin color, you can expect a safe treatment. The Syneron-Candela laser will target hair follicles in the selected region and destroy your unwanted hair at its root.
It takes several sessions to see permanent results. We recommend waiting six to ten weeks between sessions depending on how fast your hair grows back and area treatment. You will consult with your provider about the best time to come in for your next treatment.
At Arviv Medical Aesthetics, we value personal attention with all of her clients and will work with you to come up with the perfect treatment plan to meet your needs. Dr. Arviv leads both our Ocala and Miami clinics, where the staff is friendly and the facilities are clean so you can trust that you are receiving top-notch care. If you're interested in laser hair removal in Ocala, contact our medical spa today to schedule an appointment for your free consultation.
Call (813) 797-4776 to schedule your consultation with our Ocala office.
Laser Hair Removal Ocala FAQs
How to Prepare for Laser Hair Removal?
Preparing for laser hair removal is essential to ensure the procedure is safe and effective. Here are some steps you can take to prepare for your laser hair removal session:
Research and Choose a Reputable Clinic:

Select a reputable clinic or medical spa offering laser hair removal. Arviv Medical Aesthetics in Ocala is committed to providing high-quality permanent Tampa laser hair removal and reduction.

Avoid Sun Exposure:

It's crucial to avoid sun exposure, tanning beds, and self-tanning products for at least four to six weeks before your laser hair removal session. Sun exposure can increase the risk of complications and reduce the effectiveness of the treatment.

Avoid Plucking, Waxing, and Electrolysis:

Refrain from plucking, waxing, or electrolysis for at least four weeks before your laser hair removal appointment. The laser targets the hair roots, which are temporarily removed by these methods. Shaving is allowed and even recommended, as it preserves the hair shaft that the laser targets. Do not apply any lotion or oil to the area.

Inform About Medications and Medical Conditions:

Inform the clinic about any medications you are currently taking and any medical conditions you have. Some drugs and conditions may affect the laser hair removal process.
How Does Hair Removal Work?
Laser hair removal uses concentrated beams of light (laser) to target and destroy hair follicles. The pigment in the hair follicles absorbs the laser energy, which converts into heat. This heat damages the hair follicle, inhibiting or delaying future hair growth. The surrounding skin remains unaffected mainly because the laser targets dark, coarse hairs while sparing the surrounding skin.
Is Laser Hair Removal Permanent?
Laser hair removal is considered to be long-lasting, but it is not always permanent. Some people may experience permanent hair reduction, while others may notice a significant decrease in hair growth, with thinner and lighter hair regrowth. The results can vary depending on factors such as individual hair type, skin type, hormonal changes, and the technology used during the procedure. Multiple sessions are usually required to achieve optimal results, and occasional maintenance sessions may be needed to sustain the effects.
What to Do After Getting Laser Hair Removal?
After getting laser hair removal, you should follow these post-treatment care instructions:
Avoid Sun Exposure:

Stay out of direct sunlight for at least a week or as your provider recommends. If you must go outside, use sunscreen (SPF 30 or higher) to protect the treated area from UV rays.

Avoid Hot Showers and Activities:

Refrain from hot showers, saunas, steam rooms, and strenuous physical activities for at least 24-48 hours post-treatment to prevent excessive heat buildup on the treated skin.

Keep the Area Clean and Moisturized:

Gently clean the treated area with mild soap and water. Apply a soothing, alcohol-free moisturizer to keep the skin hydrated and help with any redness or irritation.

Follow the Clinic's Instructions

: Your provider will give you specific aftercare instructions based on your treatment. Follow them closely to ensure the best possible results.
How Long Will the Results of Laser Hair Removal Last?
The results of laser hair removal can vary from person to person. While some individuals may experience long-lasting or even permanent hair reduction, others may see some regrowth over time. Maintenance sessions are typically recommended every 6 to 12 months to sustain the results.
Who Can Have Laser Hair Removal?
Laser hair removal is generally safe and effective for individuals with fair to medium skin tones and dark, coarse hair. However, advances in laser technology have made it possible to treat individuals with darker skin tones as well, but it's essential to use lasers specifically designed for darker skin tones to avoid complications. If you are considering laser hair removal, make an appointment with Arviv Medical Aesthetics today and deal with unwanted hair follicles.