Call 813-855-0111 to schedule your consultation with our Tampa office.
HAIR REMOVAL
Laser hair removal is a process in which hair follicles are treated with laser light, resulting in permanent hair reduction or removal. Laser hair removal is safe (FDA cleared-remove this), effective, and provides long-lasting results. With the introduction of advanced laser technology, waxing, razor bumps and painful electrolysis are finally becoming a thing of the past.
TECHNOLOGY
Arviv Medical uses Laser Hair Removal technology from Syneron-Candela. The laser penetrates the hair follicle with light energy, destroying it at its root while preserving the surrounding skin. It is state-of-the-art, FDA cleared laser technology. This allows us to safely treat all skin types while delivering high-quality laser hair removal results. This laser machine is 2 lasers in 1, the alexandrite and the Nd-yag. Whether you have light skin or dark skin, the technician can adjust the settings to can treat your hair safely.The most common treated areas for women include legs, bikini, underarms, upper lip and stomach and the most common treated areas for men are facial hair, ears, shoulders, back and chest.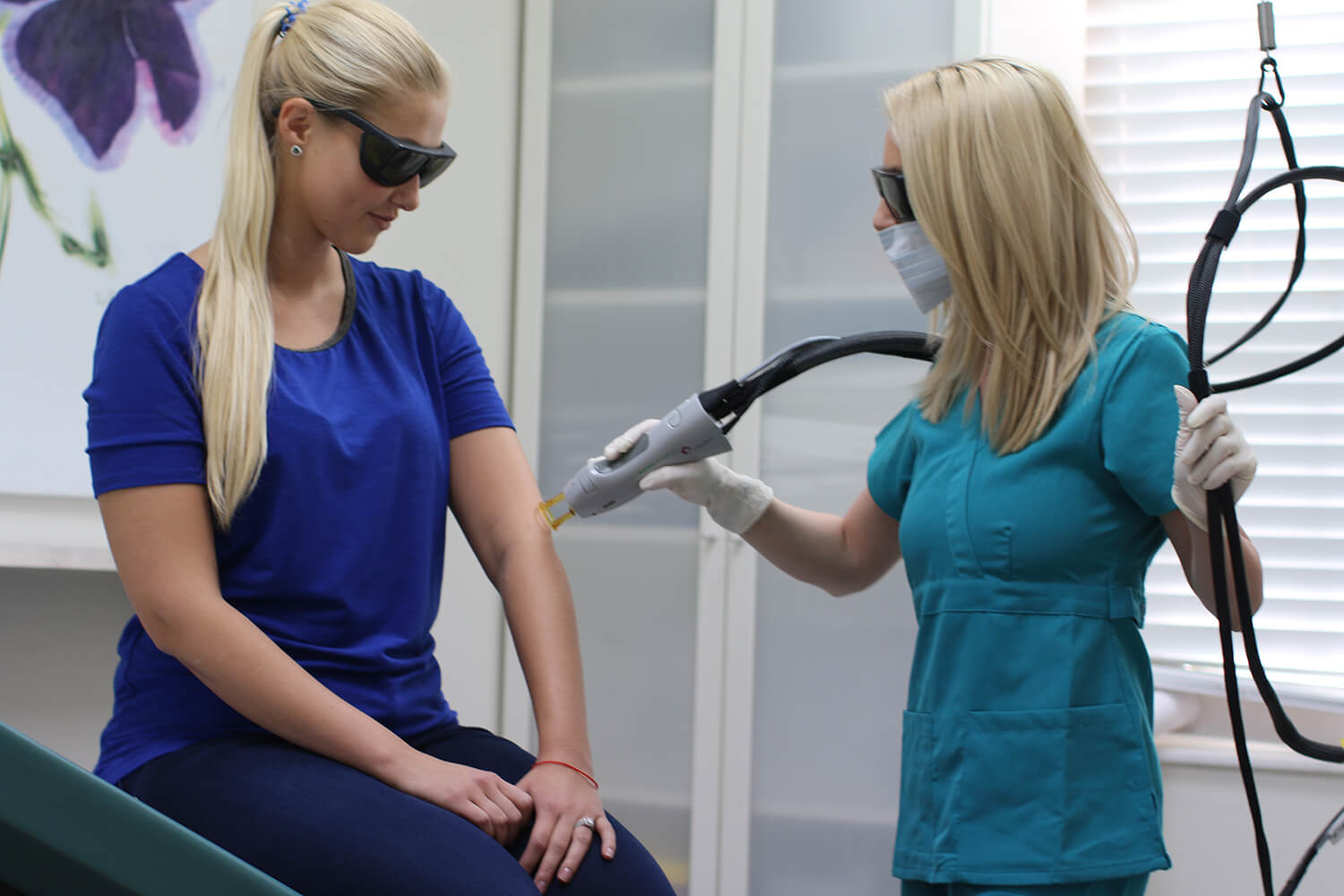 The most common treated areas for women include legs, bikini, underarms, upper lip and stomach and the most common treated areas for men are facial hair, ears, shoulders, back and chest.
SMALL BODY AREAS
Abdominal line
Upper lip
Lower lip
Chin
Hands
Fingers
Ears
Feet
Toes
Nose
Glabella
Eyebrows
Perianal
Sideburns
Jawline (under chin)
Forehead
MEDIUM BODY AREAS
Knees
Underarms
Neck front
Neck back
Bikini 2″ out
LARGE BODY AREAS
Brazilian
Full Face
Abdomen
Chest/breast
Buttocks (no perianal)
Scalp (no neck)
Shoulders
Upper back
Lower back
Upper arms
Lower arms
Upper legs
Lower legs
OUR PRICES
PER TREATMENT / PER 6 TREATMENTS
$65 / $325 SMALL AREA
$99 / $495 MEDIUM AREA
$139 / $675 LARGE AREA
$600 / $2950+ FULL BODY
$680 / $3400 + FULL BODY FOR MEN
TOUCH UP PRICING (after 10 treatments only)
$50 / Small Area
$60 / Medium Area
$70 / Large Area
LASER HAIR REMOVAL TREATMENT INSTRUCTIONS
 PRE-TREATMENT INSTRUCTIONS
Prior to treatment, discontinue using all alpha hydroxyl acid products (those containing glycolic or lactic acid), salicylic acid, and benzoyl peroxide products 1 week prior to your laser treatment on the area being treated. If using retinoids (Retin A, Renova, Differin, and Tazorac) and other topical acne medicaments please stop for 2 weeks prior to treatment on the area of treatment. You may treat your legs if you are using topical on the face. You do not need to discontinue. For oral acne medications such as accutane, You must discontinue 3-6 months prior to receiving any laser treatments. Please consult with us prior to receiving your treatment or discontinuing mediations. No antibiotics such as doxycycline, penicillin, augmentin, or amoxicillin should be taken during laser treatments. If you are taking any photosensitive medications please postpone your treatment for 2 weeks after completion of your medication.
Shave the treatment area 1 or 2 days before laser hair removal so we may direct laser energy into the hair follicle. Leave about 1/4″ of hair. Anything longer, you may be asked to shave or you may be charged a shave fee. If you need assistance shaving, please make sure you let the staff know when booking your appointment so they can schedule enough time for you.
Laser treatments are not recommended for tanned patients. If you are tan, laser settings may be lowered and ineffective. Sun exposure must be avoided between treatments for a minimum of two weeks before treatments and 2 weeks after. This includes sun exposure and tanning booths. Artificial tanning products must be discontinued two weeks prior to treatments. Always use a sunscreen of SPF 30 or higher throughout the course of your laser treatments. If you are aware that your skin stays tan longer than two weeks after sun exposure, reschedule your appointment so that you are not tan on the day of treatment.
Do not pluck, wax or tweeze throughout the course of your laser treatments. You may ONL shave any hair that grows.
Patients with a history of herpes on facial areas or groin areas should be put on oral antiviral drugs beginning the day or or day before their treatment. Laser heat can trigger and/or reactivate the virus in the same way as sun, stress, and fever. Consult with our physician if you need a prescription. There is a $25 charge for prescriptions.
At the time of treatment, laser protective goggles MUST be worn.
Please notify your Technician prior to treatment if anything has changed in your medical history such as new medications, hormones, pregnancy, or if you had any adverse reactions with any prior laser treatments.
 POST-TREATMENT INSTRUCTIONS
No DIRECT Sun Exposure or Tanning two weeks after laser treatment. If you go out in the sun you risk change of color of your skin and you may see dark circles in the treated area which may take weeks to months to resolve. Always use a sunscreen of SPF 30 or higher with ZINC oxide.
Extra hygiene care at home is required the first 24 hours. When showering use a gentle soap and do not turn the water too hot, it may feel warmer than usual in the first few days after the treatment.
DO NOT pluck, wax or tweeze during the time of laser treatment. Only shaving is allowed.
Redness and swelling of the follicles/tissue may appear and will remain for approximately 15 min up to few hours. This means you had a good reaction to the laser treatment.
To reduce swelling or redness, an ice pack may be applied to the treated area. If scabbing, blisters, pustules or follicle inflammation appear, you may need to apply silver-sulfadiazine 1% or an antibiotic cream such as Neosporin for 2-3 days after the treatment. PLEASE contact our office immediately if you have any adverse reaction. 813-855-0111 OR 305-340-9002.
DO NOT PICK SCABS or pop blisters for proper healing of the skin.
When treating facial area: Make up MUST be fresh & can be used the day after the treatment.
DO NOT TOUCH, RUB, and SCRATCH OR PICK the treated area.
Within a few days after the treatment, stubbles representing dead hair follicles will appear. You may gently exfoliate hair follicles. Complete shedding of the hair takes anywhere from 10 – 20 days. You will then experience a 2-4 weeks without hair growth.
Once you start to see the hair growing back, you may schedule your next appointment.