Call 813-855-0111 to schedule your consultation with our Tampa office.
HAIR REMOVAL
Laser hair removal is a process in which hair follicles are treated with laser light, resulting in permanent hair reduction or removal. Laser hair removal is safe (FDA cleared-remove this), effective, and provides long-lasting results. With the introduction of advanced laser technology, waxing, razor bumps and painful electrolysis are finally becoming a thing of the past.
TECHNOLOGY
Arviv Medical uses Laser Hair Removal technology from Syneron-Candela. The laser penetrates the hair follicle with light energy, destroying it at its root while preserving the surrounding skin. It is state-of-the-art, FDA cleared laser technology. This allows us to safely treat all skin types while delivering high-quality laser hair removal results. This laser machine is 2 lasers in 1, the alexandrite and the Nd-yag. Whether you have light skin or dark skin, the technician can adjust the settings to can treat your hair safely.The most common treated areas for women include legs, bikini, underarms, upper lip and stomach and the most common treated areas for men are facial hair, ears, shoulders, back and chest.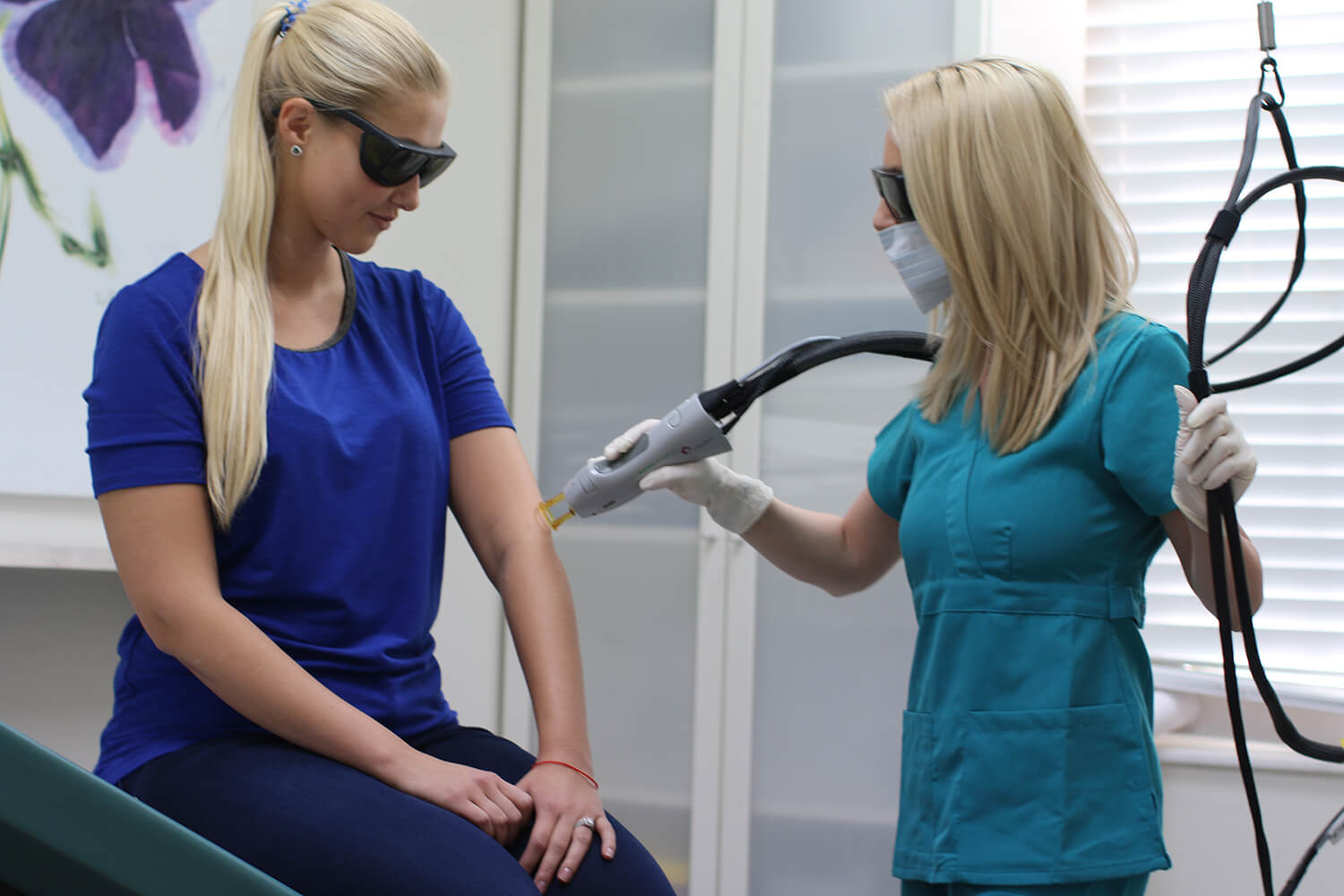 The most common treated areas for women include legs, bikini, underarms, upper lip and stomach and the most common treated areas for men are facial hair, ears, shoulders, back and chest.
SMALL BODY AREAS
Abdominal line
Upper lip
Lower lip
Chin
Hands
Fingers
Ears
Feet
Toes
Nose
Glabella
Eyebrows
Perianal
Sideburns
Jawline (under chin)
Forehead
MEDIUM BODY AREAS
Knees
Underarms
Neck front
Neck back
Bikini 2″ out
LARGE BODY AREAS
Brazilian
Full Face
Abdomen
Chest/breast
Buttocks (no perianal)
Scalp (no neck)
Shoulders
Upper back
Lower back
Upper arms
Lower arms
Upper legs
Lower legs
OUR PRICES
PER TREATMENT / PER 6 TREATMENTS
$65 / $325 SMALL AREA
$99 / $495 MEDIUM AREA
$139 / $675 LARGE AREA
$600 / $2950+ FULL BODY
$680 / $3400 + FULL BODY FOR MEN
TOUCH UP PRICING (after 10 treatments only)
$50 / Small Area
$60 / Medium Area
$70 / Large Area
LASER HAIR REMOVAL TREATMENT INSTRUCTIONS
PRE-TREATMENT INSTRUCTIONS
Two weeks prior to treatment, discontinue using all alpha hydroxyl acid products (those containing glycolic or lactic acid), salicylic acid products, retinoids (Retin A, Renova, Differin, and Tazorac) and other topical acne medications such as benzoyl peroxide. If in doubt about using any product, please discontinue it and discuss with us at your appointment. No antibiotics and/or any photosensitive medications may be used during the time of treatment.
Shave the treatment area 1 or 2 days before laser hair removal.
Laser treatments are not recommended for tanned patients until the tan has faded. Sun exposure must be avoided between treatments for a minimum of three weeks before treatments. This includes sun exposure and tanning booths. Artificial tanning products must be discontinued two weeks prior to treatments. Always use a sunscreen of SPF 30 or higher throughout the course of your laser treatments.
Do not pluck, wax or tweeze hairs lasered throughout the course of your laser treatments.
Patients with a history of herpes should be take an oral antiviral medication (Zovirax or Famvir) the day before treatment. Laser heat can trigger and/or reactivate the virus in the same way as sun, stress, and fever. Consult with your physician if you need a prescription.
At the time of treatment, laser protective glasses MUST be worn.
If consuming any hormone stimulating or anti-depression medication, client MUST notify Technician prior to treatment.
POST-TREATMENT INSTRUCTIONS
No DIRECT Sun Exposure or Tanning three weeks after laser treatment. Always use a sunscreen of SPF 30 or higher with ZINC oxide.
Extra hygiene care at home is may be required.
DO NOT pluck, wax or tweeze hairs being treated with laser.
Redness and swelling of the follicles/tissue may appear and can remain for 15 minutes up to few hours.
To reduce swelling, application of Hydrocortisone 1% or an antibiotic cream.
If scabbing, pustules or follicle inflammation appear, apply Hydrocortisone 1% or an antibiotic cream such as Neosporin or Polypore for 2-3 days after the treatment and contact our office immediately.
DO NOT PICK SCABS for proper healing of the skin.
When treating facial area: Make up MUST be removed and can be used day after the treatment.
DO NOT TOUCH, RUB, and SCRATCH OR PICK the treated area.
Complete hair clearance can take 10-20 days after laser procedure.
If any problems should occur after your treatment, the following measures should be taken:
Inform a representative at our office immediately after a reaction has occurred or within 24 hours of any side effects such as burns, infection, bleeding, allergic reaction, blisters, scabbing, crusting, skin color and/or textural changes. If immediate care is needed, a physician will evaluate the patient and necessary treatment will be provided. If you do not contact the office within 24 hours you will be held liable for any permanent skin changes that may occur. You should wait 12 months before determining that a skin condition is permanent.
Fill out a form with the physician describing in full detail what type of symptoms or side effects are present. This will be done in ALL cases that have any type of symptoms or side effects.
All treatments will stop until all issues are resolved and the patient will be reassessed before further treatments will be provided.
If it is decided by the physician that the client cannot continue treatments, a refund will be provided. If this should occur, the client MUST explain the reasons why he/she does not want to continue their treatments and MUST complete the required form to file a complaint. Each case will be evaluated and addressed individually.
If I choose to or need to go to another physician for medical treatment rather than Dr. Arviv, I hereby consent to releasing the medical records from that physician/facility to Dr. Arviv, along with photos of my problem.