Dermal Fillers in Ocala, FL
There are numerous non-invasive treatments and skin rejuvenation products that effectively reduce the visible signs of aging. One of the popular options is Ocala dermal fillers & injectables. Within minutes, you can have a smoother, plumper, and younger look by working with the experts at Arviv Medical Aesthetics.
What Are Injectable Dermal Fillers?
Dermal fillers typically contain hyaluronic acid (HA), which is a natural substance found in the body. It keeps the skin hydrated, plump, and elastic. As we age, our bodies produce less HA.
Fillers are injected into the soft tissue of the skin. Once injected, the filler diminishes the appearance of fine lines, wrinkles, creases, and other visible signs of the aging process. Patients receive treatments for the following:
Lips
Jawline
Cheeks
Under eyes
Chin
Hands
Smile lines
Nose
The consistency of the gel ranges from thin to thick. The thickness of the filler used during treatment depends on the facial area being treated. Products such as Restylane Silk® and Belotero® have a thin consistency and work best for the under-eye area and fine lines around the lips. Thick gels, such as Juvederm Voluma®, are used for cheek augmentation. The dermal filler injectable brands we use are listed below:
Who Is an Ideal Candidate?
Dermal fillers are a form of skin rejuvenation that's suitable for anyone who wants to add reduce facial lines and wrinkles. Generally, we begin losing skin volume in our late 30's, so it's an effective treatment for individuals suffering suffer volume loss due to age. Additionally, fillers work for patients who engage in high-impact physical activities. For example, runners experience a significant reduction in volume, so they make good candidates.
What Is the Treatment Process?
The fillers are injected into the soft tissue using a needle or cannula. In many cases, more than one injection is needed during a treatment. The procedure lasts between 30 and 45 minutes.
Dermal fillers provide age-defying results that last between 6-18 months. In some instances, patients enjoy long-term effects lasting for nearly two years. Since the treatment does not permanently eliminate wrinkles, patients return for follow-up treatments, as needed.
How Do You Prepare for Treatment?
Patients do experience minor swelling and bruising. However, you can reduce these side effects by taking Arnica with Bromelain pre and post-treatment. Additionally, please notify us if you take any of the following:
Aspirin
Ibuprofen
Coumadin
Warfarin
Lovenox
Plavix
Pletal
Ticlid
Trental
You may need to refrain from taking these medications prior to the procedure. We also recommend minimizing sun exposure and avoiding retinol products because it's difficult to treat sensitive skin.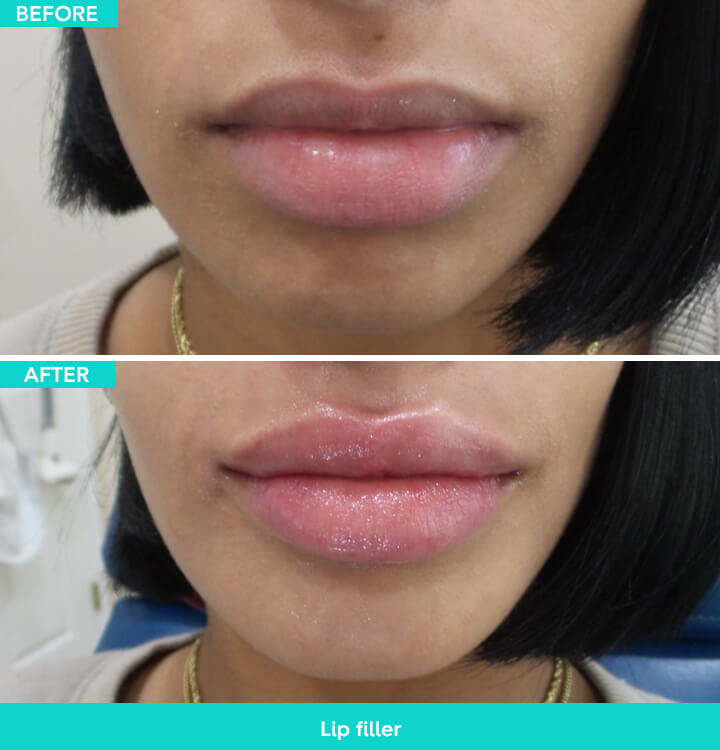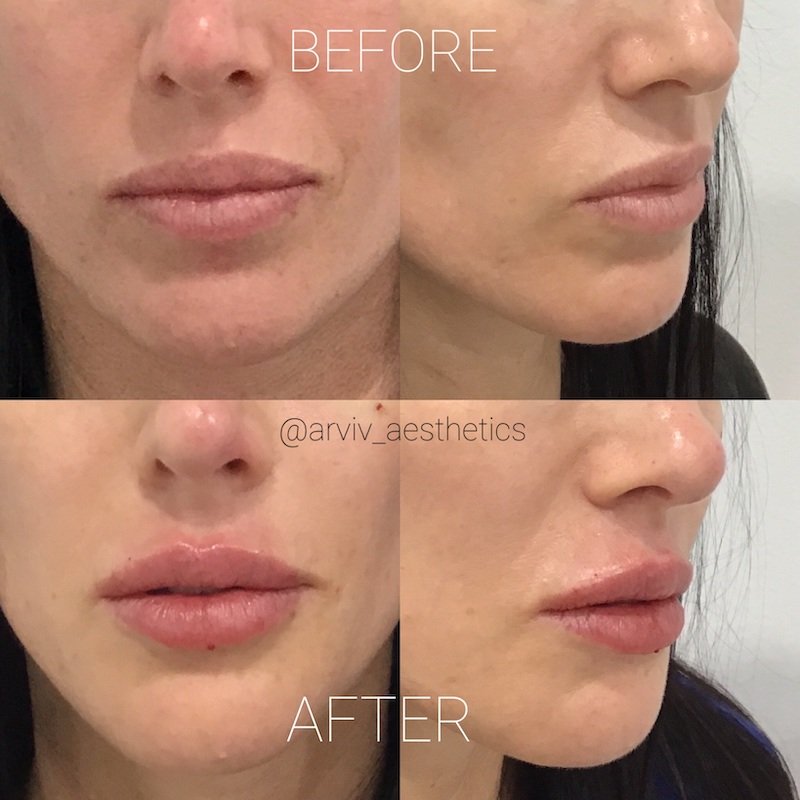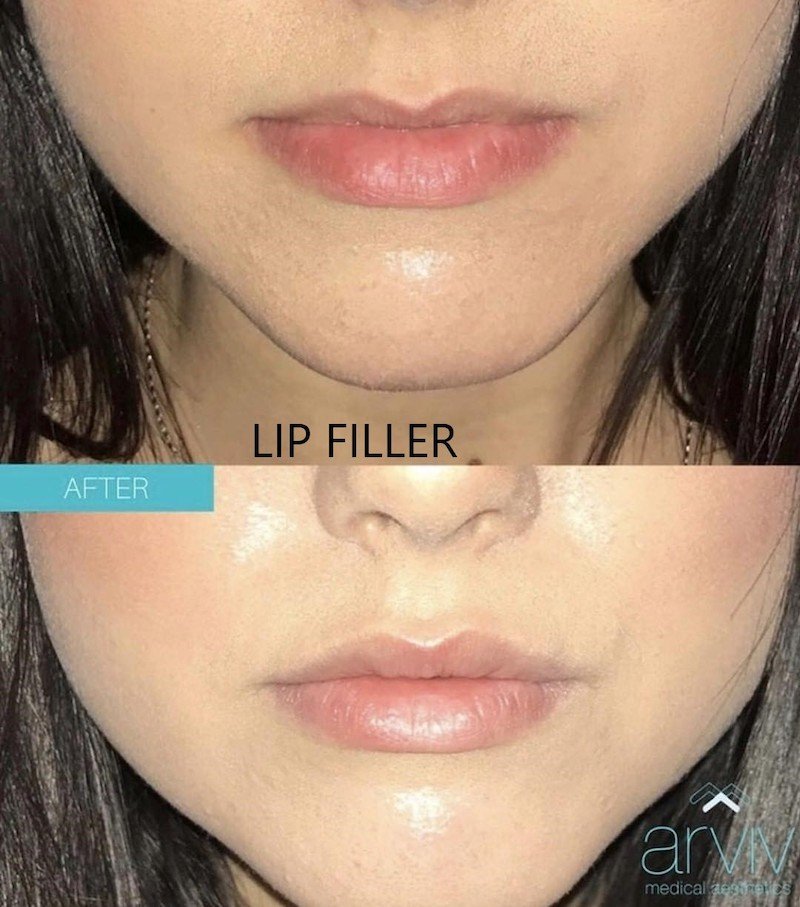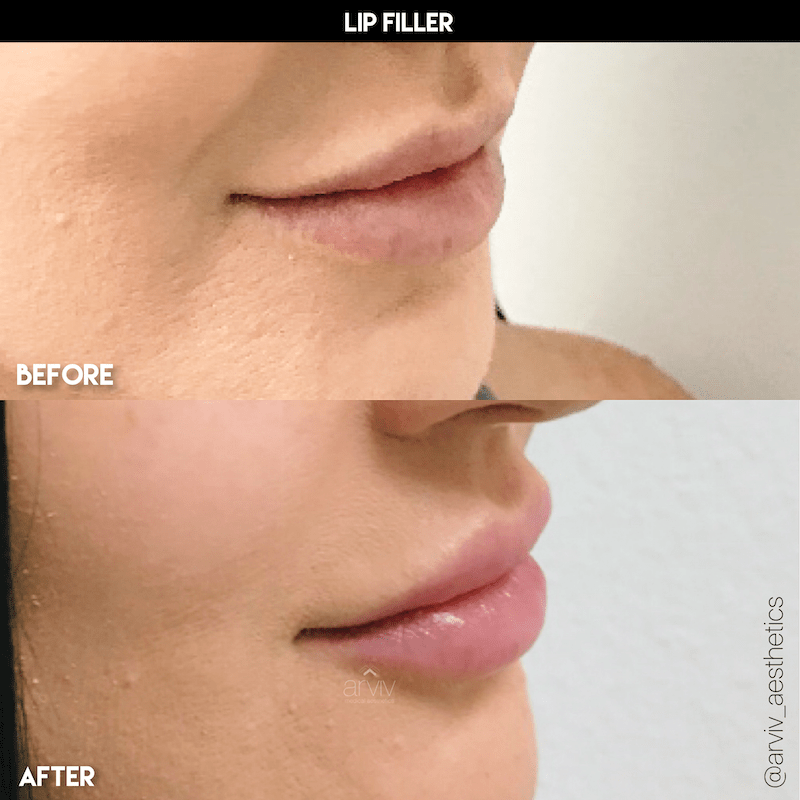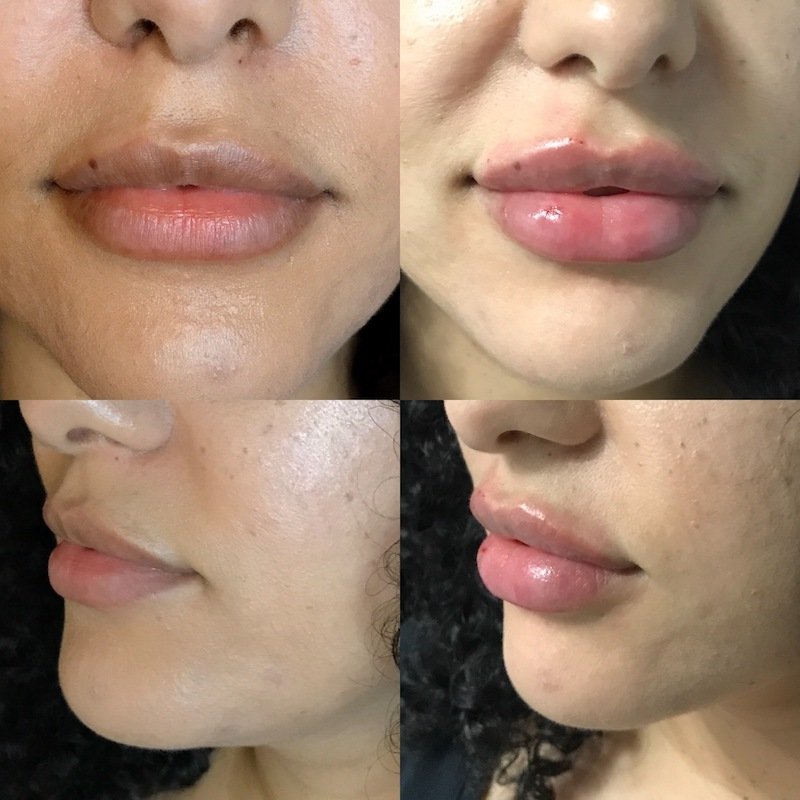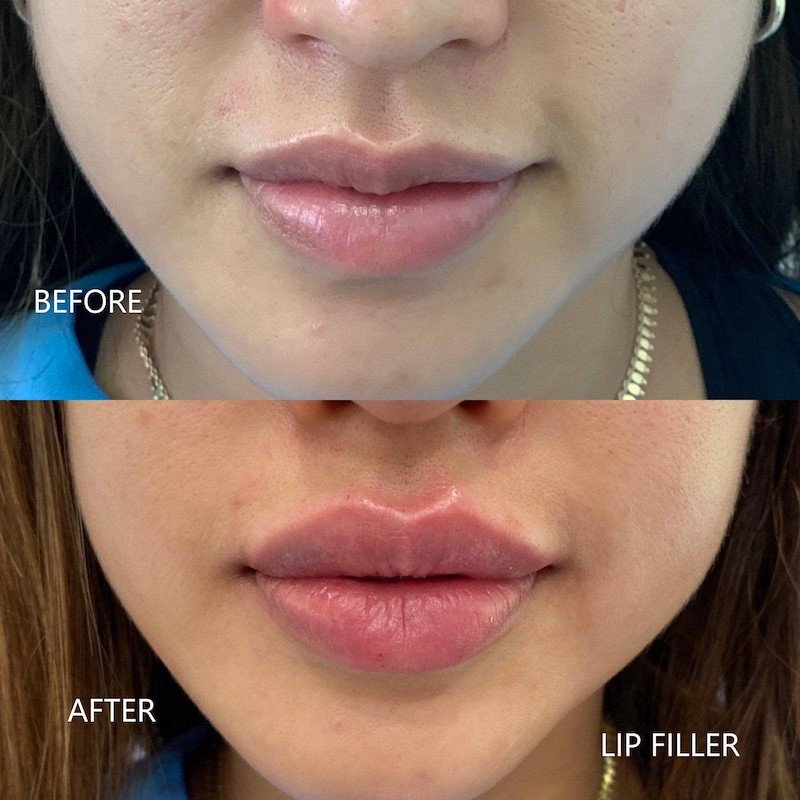 What Do You Do After Treatment?
Patients may experience swelling or bruising. However, these side effects disappear within a few days and up to 2 weeks after treatment. To help reduce these effects, we recommend the following:
Don't take garlic, ginger, vitamin E, Advil, ginseng and biloba for two weeks.
Don't drink alcohol for 24 hours post-treatment.
Don't spend a lot of time in the sun.
Don't engage in intense exercise.
Don't spend time in heat-intensive environments, such as hot showers, saunas.
How Do Dermal Fillers Work?
Our bodies produce collagen, elastin, and hyaluronic acid. Each of these substances plays a role in keeping skin plump, supple, and hydrated. As you age, your skin becomes thinner and dry because the body decreases its production of these compounds.
Dermal fillers add volume and lift to your skin. Each injection is administered with a tiny needle filled with a gel that reduces the appearance of wrinkles and fine lines. Many injectables contain HA, which is a biocompatible substance. In other words, HA appears naturally in the body, so it's absorbed into the body without any adverse effects and the body has the ability to break it down.
What Are the Benefits of Dermal Fillers?
The benefits of this anti-aging treatment include:
No scars
Immediate results
No downtime
Minimal pain and discomfort
Affordable
Results lasting up to a year
Reversible
Get Dermal Fillers & Injections in Ocala, FL
Dermal fillers are a safe, affordable, and effective way to turn back the hands of time. You can recapture your youthful, vibrant glow in a matter of minutes. Contact us in Ocala to learn more about how Arviv Medical Aesthetics Ocala can create custom solutions suited just for you.
Prices are subject to change and personalized prices will be provided upon consultation.
IMG 2301
IMG 2440
IMG 2633
IMG 2654
IMG 2817
IMG 3586
IMG 3662
IMG 3760
IMG 4266
IMG 4880
IMG 4882
IMG 5041
IMG 5700
IMG 5702
IMG 5744
IMG 5746
IMG 5748
IMG 6163
LIP FILLER4
UNDEREYEF
UNDEREYEFILLER
What are the Benefits of Fillers?
Dermal fillers and lip fillers Ocala can provide many benefits. They can help to plump up the skin and lips, reduce the appearance of wrinkles and fine lines, and add volume to the lips. They can also help to hydrate the skin and lips and provide a natural-looking, youthful appearance.
In addition to the above benefits, dermal fillers are beneficial because they are a non-invasive procedure that takes a few minutes. They also provide natural-looking results, so you won't have to worry about looking "overdone" or "fake."
Moreover, they offer immediate results, meaning you can have the procedure done and see the results right away. Lastly, dermal fillers, such as Ocala lip injections, are relatively affordable.
How Long Do the Results Last?
In general, the results of dermal fillers can last anywhere from six months to two years. The type of lip filler used will have the biggest impact on how long the results last. Different dermal fillers are designed to provide different results and last varying lengths of time.
For example, hyaluronic acid fillers such as Juvederm and Restylane typically last between six and twelve months. On the other hand, fillers that are bio-stimulators such as and promote collage can last 2-5 years.
In addition to the type of lip filler used, the individual patient's skin and lifestyle will also affect how long the results last. Patients who take good skin care, follow a healthy lifestyle, and avoid excessive sun exposure will typically get longer-lasting results.
Which Filler Do I Need?
If you're considering dermal fillers to help reduce the appearance of wrinkles and fine lines, you're likely wondering which type of dermal fillers you need. The answer is a complex one, as there are a variety of dermal fillers on the market, each with its own advantages and disadvantages.
One of the important factors to consider when choosing a dermal filler is the areas of your face that you want to target. Different dermal fillers are better suited for different areas of the face.
For example, if you're looking to reduce the appearance of wrinkles around your eyes, look into hyaluronic acid fillers. These fillers are best for areas with delicate skin, such as the eyes, and can help to restore volume and reduce wrinkles. Ocala lip injections will be ideal if you intend to get fuller lips.
Another option is calcium hydroxylapatite fillers. These fillers are popular for targeting the mid-face area, such as the cheeks and nasolabial folds, and can help to improve facial contours and restore a more youthful appearance.
Finally, if you're looking to promote collagen, consider poly-L-lactic acid fillers. These fillers are best for areas with deep wrinkles, such as the forehead and around the mouth, and can help to restore lost facial volume and reduce wrinkles.
When it comes to dermal fillers, it's important to consult with an experienced provider to determine which type is best for you and your needs. Your doctor can help you to determine which type of filler is best for your individual needs and can discuss the risks and benefits associated with each type of filler.
How Can I Prepare for Fillers?
It's important to ensure you're properly prepared before undergoing any type of cosmetic procedure. Here are some tips to help you prepare for dermal fillers:
Before you schedule your dermal filler appointment, ensure you understand what the procedure entails. You should understand the pros and cons of different types of dermal fillers and evaluate if this type of procedure is right for you.
Make sure you think about how your lifestyle might change after getting dermal fillers. Depending on the type of fillers used, you may need to limit your exposure to the sun and avoid strenuous activity in the days following the procedure.
Prior to getting dermal fillers, you should schedule a consultation with your doctor. During this appointment, you can discuss your desired results, review your medical history, and ask any questions you may have.
Take the time to prepare yourself mentally and physically for the procedure. Make sure you are up to date on all your vaccinations and that you're in good health. Depending on the type of dermal fillers you get, you may need to schedule downtime to allow your body to heal. Make sure you plan ahead and set aside time to rest and recover.
Schedule an Appointment with a Board-Certified Physician
Are you looking to reduce the signs of aging, such as wrinkles and fine lines? Then you should definitely consider getting dermal fillers and Ocala lip injections from Arviv Medical Aesthetics. We specialize in a variety of aesthetic treatments, including dermal fillers and lip fillers Ocala, and are dedicated to providing the best possible results for our patients.
We also use the latest and most advanced technology to ensure that all of our treatments are performed safely and effectively. This means that you can rest assured that you'll get the best results possible from your dermal fillers. Moreover, we offer cost-effective solutions for dermal fillers, so you can get the results you want without breaking the bank.
Book an appointment today to talk to our board-certified surgeon about your options.