Call 305-340-9002 to schedule your consultation at our Miami office.
What Is Restylane®?
Restylane® is an injectable filler made with hyaluronic acid, a naturally occurring substance in your body. It is used to correct many issues, from dark undereye circles and wrinkles and fine lines to places that have lost volume over time, like the lips or back of the hands. Talk to Dr. Arviv about your concerns to see which type of Restylane® in Miami is right for you.
Restylane® Candidates
The ideal candidates for Restylane® Miami are in good health, over the age of 22, and have these concerns:
Aging of the face
Thinning skin on the face
Under eye bags
Under eye hollowness or sunken appearance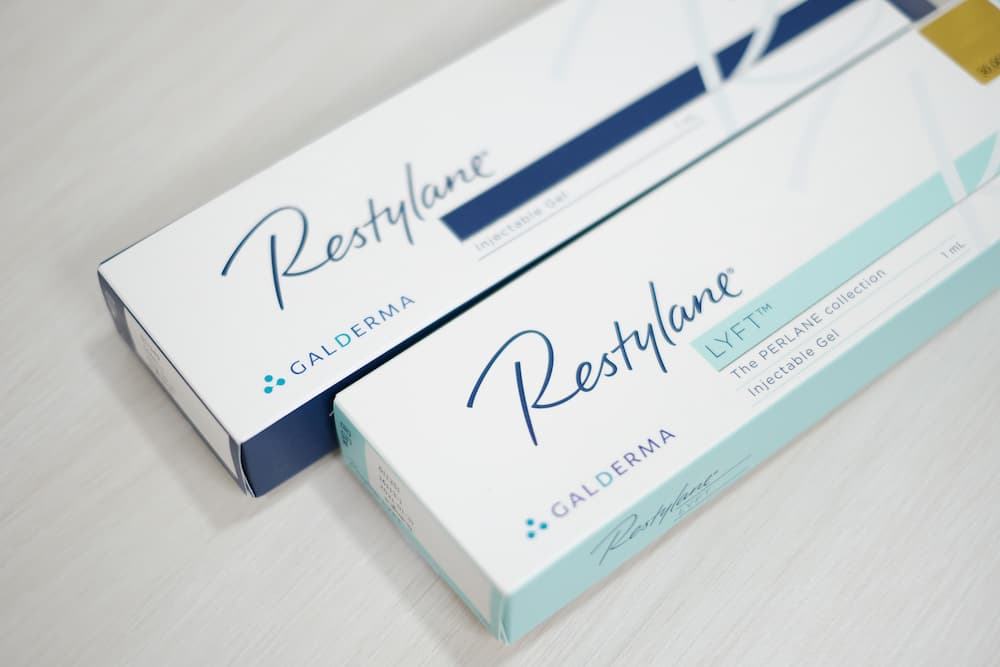 Restylane® Procedure
At your consultation, you'll discuss your concerns with Dr. Arviv. After examining and discussing risks and benefits, you'll receive a treatment plan for the appropriate Restylane® products for your particular needs.
How Does Restylane® Work?
Restylane® works by restoring volume beneath your skin where collagen and other tissue have been lost. The hyaluronic acid in Restylane® adheres to the skin while the water provides increased volume. The result is younger, fuller, smoother skin.
Restylane and Hyaluronic Acid
Restylane® is a hyaluronic acid filler that can restore the natural-looking fullness of youth in aging skin. Though hyaluronic acid is naturally produced in the body, it decreases over time. Restylane® provides fullness, elasticity, and hydration.
The Restylane® Filler Types Available
At Arviv Medical Aesthetics in Miami, FL, we offer:
Restylane®
Restylane® Kysse
Restylane® Silk
Restylane® Lyft
Restylane® Defyne
Restylane® Refyne
Restylane® for Facial Aging and Enhancements
Dr. Tali Arviv recommends Restylane® for use when inevitable signs of aging appear. It is highly effective for the lines around the mouth, lips, nasolabial folds, dark circles, and more.
Non-Surgical Nose Jobs Using Restylane®
A liquid rhinoplasty or non-surgical nose job is possible with Restylane®. Rather than using surgery, Restylane® can be injected to correct the appearance of depressions, bumps, or other issues.
Restylane® Kysse For Lip Augmentation and Mouth Wrinkles
Restylane® Kysse has XpresHan Technology that allows you to maintain natural expression while getting all the aesthetic benefits of a filler. Restylane® Kysse helps with the volume, texture, definition of the cupid's bow.
Restylane® Silk for Lip Augmentation and Mouth Wrinkles
Restylane® Silk is used to treat wrinkles around the lips and lip thinning. When used for the lips, it improves fullness, projection, shape, and symmetry.
Restylane® Lyft for Hands and Cheeks
Hands show the telltale signs of aging. Restylane® Lyft is explicitly formulated for volume loss in the midface and back of hands. This formula is thicker, providing additional lift of sagging skin.
Restylane® Defyne for Deeply Set Facial Lines
Restylane® Defyne is an FDA-approved filler for deeply set facial lines that can last up to 12 months. Since it moves with your face, it creates a much more natural look.
Restylane® Refyne for Laugh Lines
Despite the name, most people don't find laugh lines funny. Let us transform your marionette lines with Restylane® Refyne.
How Much Do Restylane® Treatments Cost?
Our injectables, including Restylane® Miami, generally cost from $700-$800 per vial. However, the total cost of your treatment depends upon several factors, including the number of sessions, the amount of product, and membership in our VIP Membership Program.
Recovery & Results
Restylane® requires minimal downtime. Patients may experience some mild side effects like swelling, bruising, redness, or lumps or tenderness at the injection site that should subside within 7-14 days. Though it varies from patient to patient, results will last for approximately 18 months.
Contact Arviv Medical Aesthetics for Miami Restylane®
Call us at 305-340-9002 or text us at 305-215-5171 today for an appointment for Restylane® in Miami, FL.
Featured Image: Kpakook/Shutterstock
Prices are subject to change and personalized prices will be provided upon consultation.