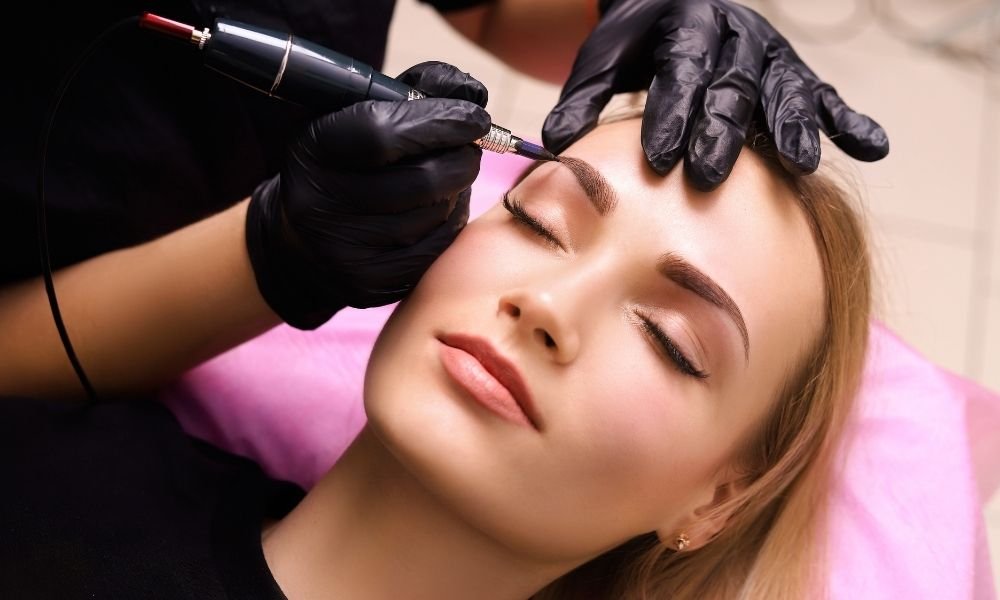 Pros and Cons of Permanent Makeup
How many times have you thought about how nice it would be to wake up and miraculously have a perfect, unsmudged face of makeup? How much money have you spent on the ideal mascara that won't flake or run if you cry at a wedding, sweat while touring the beautiful Art Deco buildings in South Beach, or spend the day in the waters of Clearwater Beach? Maybe you have difficulty seeing closely enough to feel confident with your application. Whatever the reason, there are options available.
What Is Permanent Makeup?
Many names know permanent makeup: micropigmentation, microblading, and cosmetic tattoos are just a few. It can vary from enhancing the eyebrows, creating the look of thicker lashes with permanent eyeliner, or making lips look like they have the perfect wash of color at all times. It can also be done to resolve other aesthetic issues, such as minimizing the look of an uneven hairline, evening out skin tone from vitiligo, replacing missing eyebrows from alopecia areata, creating a nipple and areola for women who've had breast cancer surgery, and camouflaging stretch marks or scars.
Who Should Consider Permanent Makeup?
Many people in Miami and Tampa find themselves considering permanent eyeliner pros and cons. After all, who doesn't want to accent their beautiful eyes without having to spend time in front of the mirror? For others, conditions that cause tremors or unsteady hands like Parkinson's disease, limb weakness from arthritis, stroke, or multiple sclerosis, as well as poor eyesight from cataracts, may make putting on cosmetics difficult if not impossible. Permanent makeup like tattooed eyeliner, eyebrows, or lipstick is an ideal solution.
The Good, the Bad, and the Ugly
There are permanent eyebrow tattoo pros and cons, just as with any other procedure. Fortunately, the pros far outweigh the cons as long as you've done your research.
The Good
Permanent makeup saves time.
Permanent cosmetics save money.
It subtly enhances your natural beauty.
It can look better than makeup.
Permanent cosmetics can alleviate allergic reactions to cosmetics.
It increases self-confidence.
The average woman spends almost an hour a day putting on her makeup. Those who use makeup to camouflage skin issues spend even more time. What could you do with another hour minimum per day? Perhaps you would sleep in, take some time to drink a leisurely cup of coffee, or take a walk before starting your day.
Cosmetics are also very costly. According to a recent study, women spend an average of $3,746 per year or $225,360 over their lifetime on makeup. Men spend a little less at an average of $244 annually or $175,680 throughout their lifetime. When you look at the lifetime costs, you could have paid for four years of college tuition at an Ivy League school like Harvard.
When you pick the right aesthetician, the effects of tattooed cosmetics are subtle. Only you will know that you didn't just wake up looking that naturally beautiful without any effort. You still look like you, but the better, more vibrant you. Not only that, but some people are just not that skilled at applying makeup. Permanent cosmetics can look like a visit to a professional makeup artist that doesn't get washed off at the end of the day instead of like clown makeup.
For people susceptible to skin or allergies to cosmetics, permanent makeup is a blessing. The procedures can increase self-confidence, particularly for those who feel they need to camouflage skin conditions, hide scars, or create missing eyebrows where theirs have fallen out due to health conditions. For them, permanent eyebrows pros and cons definitely lean to the pros.
The Bad
Every procedure has its risks. It is no different for cosmetic tattooing. Some of the potential pitfalls could include:
Infection
Allergic reactions
Scarring
Incompetence
Unrealistic expectations
Infection is always a risk when a procedure breaks the skin, as with the needles or microblade used in applying permanent cosmetics. If the facility doesn't have strict procedures for sterilization and preventing cross-contamination, or the technician fails to follow the safety protocols, an infection could be a result. However, you can ask about their safety procedures before you decide on a facility, and you should be able to observe them as the practitioner prepares for your procedure easily.
Another rare but possible side effect of a permanent cosmetic procedure is an allergic reaction. Some people react to the ink or dyes used, resulting in swelling, bleeding, crusting, blistering, itching, or pain. With an allergic reaction to tattooed eyeliner, there could be loss of eyelashes or ectropion
If there is any concern with a possible allergy, the procedure can be tested in a small patch of skin behind the ear. Occasionally, scarring or keloid development could result from a reaction to the procedure.
It is vital that you visit and thoroughly vet the facility and aesthetician before you commit to a procedure. You want to be sure that your practitioner has been trained in the techniques required for your procedure, in spotting potential problems or signs of an allergic reaction, and in CDC recommendations regarding sterilization of the tools used.
Ask about how many procedures they have done, how long they've been practicing, and ask to see some reviews and photos. Insufficient training or incompetent technicians can cause the poor application or even injury.
Finally, having realistic expectations is a huge determinant in your satisfaction level with your permanent cosmetic procedure. A good technician will make you aware of what to expect during, immediately after, and in the days or weeks post-procedure. For instance, colors and shapes can change during the healing process. The pigment can appear darker initially but will soften and get lighter later on. That healing period can be different for everyone, and according to the procedure.
Finding a Qualified Aesthetician
Finding a qualified practitioner for permanent cosmetics in Miami, Florida, takes doing your homework. You can start by doing an online search for micropigmentation, microblading, or permanent makeup. Read their websites and look at several sites that provide online reviews. But that is only a start.
Visiting a prospective medspa or physician's office in Tampa, Florida, is also an important step. You want to observe the demeanor of the staff and patients and notice the cleanliness of the facility. If possible, you should ask to meet with the aesthetician that will be performing the procedure. You'll want to ask questions about their experience, what credentials they hold, whether you can verify those credentials, and if you can see photographs of their work.
Finally, ask about their aftercare procedures. If you feel confident that your concerns were taken seriously, satisfied with the answers you've received, and comfortable with your rapport with the aesthetician, you have found the right place for your procedure.
When you are ready to explore permanent cosmetic procedures, see the qualified and experienced staff at Arviv Medical Aesthetics. We are a highly experienced and well-respected medical spa with offices in Tampa and midtown Miami.
Call us today in Tampa or Miami to schedule your consultation.
Featured Image: Shutterstock/Kovalchynskyy Mykola