IPL (Intense Pulsed Light) treatment helps reduce pigmentation, age spots, sun spots, small veins, redness, and capillaries. These imperfections range in color from different shades of brown and red located in areas. My experience treating patients with IPL results in a significant reduction in hyperpigmentation and redness along with shrinkage of pores leaving an even skin tone and texture. Patients typically will need 1-3 initial treatments for optimal results and likely additional maintenance treatments every 6 months to a year depending on lifestyle, skin type, and significance of sun damage. Upon consultation, we will be better able to assess your needs and address any concerns.
What areas can be treated with IPL Photofacial?
IPL Photofacial treats uneven skin texture, aging spots, rosacea, freckles, vascular lesions (tiny blood vessels), and pigmented lesions. You can also use IPL therapy to remove or minimize hair on the bikini line, underarms, legs, chest, back, neck, face, and repair damaged blood vessels on the face and birthmarks.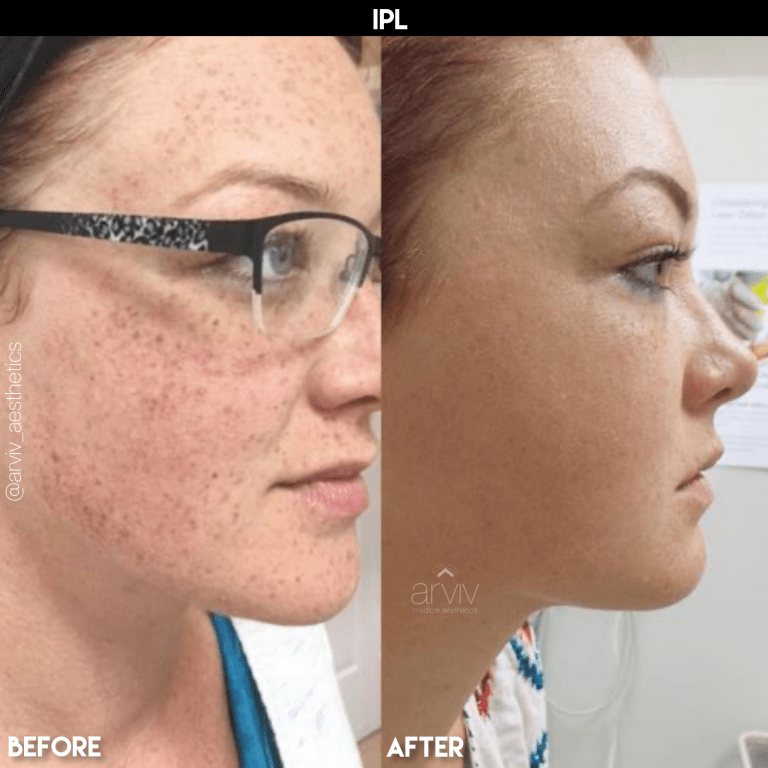 Why should I get IPL?
IPL Photofacial therapy introduces short blasts of high-power light to improve the texture of your skin and make it firmer and younger-looking. If you are concerned about the appearance of the facial skin capillaries, rosacea, redness, tiny veins, sun spots, age spots, and pigmentation, you should consider IPL therapy.
At Arviv Medical Aesthetics, some of our clients benefit significantly from IPL treatments if they have trouble keeping up with regular skincare routines.
What does IPL feel like?
IPL facial therapy feels like the dermatologist or technician is snapping a rubber band against the skin. While most patients are comfortable with the light pulses, the IPL Photofacial could sting. The dermatologist may apply a numbing cream on the skin 30-60 minutes before the treatment.
How do I prepare for an IPL treatment?
We recommend avoiding direct exposure to sunlight before coming in for IPL laser therapy at Arviv Medical Aesthetics. If you have tanned recently, we recommend that you book an appointment after the tan wears off. We may also ask you to avoid specific medications that may increase sensitivity to light. However, it is crucial to consult your doctor before discontinuing any prescription drugs.
Before the IPL laser treatment, the skin specialist examines your skin and informs you about what to expect during treatment. This examination will reveal whether you have any underlying skin conditions that may impact the healing process, such as eczema and inflammatory acne. The dermatologist will also inform you to avoid collagen injections, chemical peels, waxing, creams, or other products containing vitamin A, including glycolic acid or RetinA, and drugs that increase your risk of bleeding as ibuprofen (Advil) and Aspirin (Ecotrin).
While the average cost of an IPL facial ranges between $700 and $1,200, the cost varies depending on the size of the area and the specific condition that brings you to the clinic. You may pay more for medicines, follow-up visits, tests, and anesthesia. IPL is a cosmetic procedure, implying that most health insurance companies may not cover the treatment costs.
How effective is IPL treatment?
The effectiveness of the IPL Photofacial therapy varies depending on the condition under treatment.
Acne: IPL facial treatment may significantly improve your skin, clearing the scarring acne it leaves behind. You may need approximately six sessions for noticeable results. Research on this subject is ongoing.
Redness: Light therapy can resolve approximately 50%-70% of damaged blood vessels in one to three sessions. They could disappear completely, but new ones may appear in subsequent months. If you are experiencing rosacea, IPL is a viable alternative to laser therapy and is most effective if your condition is severe or moderate and you are under 40 years old.
Sun damage: You will notice 70% less redness and brown spots caused by ultraviolet rays.
Hair removal: You will experience more advantages if you have dark hair and light skin. It may not work if you have blonde hair or dark skin.
Are there any alternatives to IPL treatment?
These options may treat your redness, fine lines, and skin spots.
 Laser resurfacing. This treatment eliminates the damaged outer surface of the skin to induce the regeneration of new skin cells and collagen. Lasers direct only one wavelength of light onto the skin. IPL uses flashes or pulses of different wavelengths of multiple forms of light to resolve various skin conditions.
Microdermabrasion. Involves gentle buffing of the epidermis, the top layer of the skin.
Chemical peels. These function in the same way as microdermabrasion, only that it involves the application of chemical solutions on the face.
How to proceed after your treatment?
Makeup can be used starting right after the treatment, as long as it is applied and removed very gently.
For freckles and age spots, it is normal for the spots to look darker for 3-7 days.
Crusting can occur, which may last up to ten days. Do not exfoliate or pick at these crusted lesions.
Use a gentle moisturizer and cleanser for 3-5 days post-treatment. Apply sunscreen daily.
Avoid sun exposure for 2 weeks post-treatment.
As a medical provider, I find that patients who commit to a skincare routine see better results with IPL treatments. I always advise patients to apply SPF 30+ daily as part of their morning routine. A good cleanser and toner used twice daily will help get rid of any dirt or impurities in the pores and help keep them tighter. I also recommend using a Vitamin C serum and retinol to help with brightening and reducing fine lines.
Contact us at (305) 340-9002 to schedule a consultation at our Midtown, Miami med spa location. Check out the benefits of joining the Miami Med Spa VIP membership program. To schedule your consultation, residents in Tampa should contact our Tampa office at (813) 855-0111. Kindly consider our latest specials for more updates and plan your journey to the start of body and facial rejuvenation.
Prices are subject to change and personalized prices will be provided upon consultation.